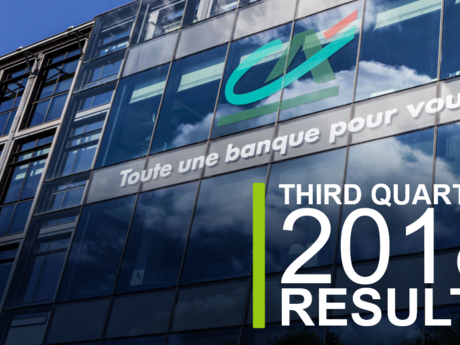 Results for the third quarter and first nine months 2018
Q3-18: solid and growing results1
Crédit Agricole S.A.

Stated net income2

Q3: €1,101m
+3.2% Q3/Q3
 9M: €3,393m
+4.0% 9M/9M

Stated net revenues

Q3: €4,802m
+5.0% Q3/Q3
9M: €14,882m
+6.4% 9M/9M

Fully-loaded CET1 ratio

11.5%
+11bp in Q3,
well above the MTP target (11%)

- Underlying1 net profit2 Q3 €1,133m, +17.3% Q3/Q3 (9M: €3,338m, +9.5% 9M/9M)

- Earnings per share1: Q3 €0.36, +18.6% Q3/Q3, 9M €1.06, +10.9% 9M/9M; ROTE1 13.1% 9M annualised

- Contribution by all the business divisions to growth in revenue and results, with a particularly high level of profitability in CIB,

and strong growth in CIB/Financing

- Good cost control: jaws effect1 excluding SRF3 > 2pp Q3/Q3, 1.7pp 9M/9M, improvement in C/I ratio1 Q3/Q3 and 9M/9M

- Still a very low cost of credit risk, with further decline: 26bp4(-5bp Q3/Q3)

- Fully-loaded CET1 ratio: +11bp in Q3, good management of risk-weighted assets, 9M provision for dividend: €0.53

Crédit Agricole Group*

Stated net income2

Q3: €1,769m
-7.3% Q3/Q3
9M: €5,273m
-6.1% 9M/9M

Stated net revenues

Q3: €8,043m
+2.0% Q3/Q3
9M: €24,729m
+2.8% 9M/9M

Fully-loaded CET1 ratio

14.9%
+12bp in Q3
540bp above the P2R5

- Very strong, good quality activity in all business lines: Retail Banking, Specialised Businesses and the Large Customers division

- Q3 underlying1 net profit2: €1,815m, +3.2% Q3/Q3; 9M: €5,224m, -3.8% 9M/9M after a sharp increase in the SRF3and a negative scope effect

- Resumption of revenue growth1 for the Regional banks

- A positive jaws effect1 excluding the SRF3 Q3/Q3 thanks to an increase in revenues across all business divisions,
including Retail Banking France, and good cost control excluding the SRF (+2.8%)

- Decrease in cost of credit risk to 18bp4 (Regional banks: -€104m in Q3-18, vs. just -51 in Q3-17)

- S&P raised its long-term rating to A+/stable outlook on 19 October; each rating agency has raised its long-term rating over the last three years

* Crédit Agricole S.A. and Regional banks at 100%                       
This press release comments on the results of Crédit Agricole S.A. and those of Crédit Agricole Group, which comprises the Crédit Agricole S.A. entities and the Crédit Agricole Regional banks, which own 56.3% of Crédit Agricole S.A. Please see from p. 15 onwards for details of specific items which, after restatement for the various related intermediary balances, are used to calculate underlying results. A reconciliation between the stated income statement and the underlying income statement can be found from p. 21 onwards for Crédit Agricole Group and from p. 17 onwards for Crédit Agricole S.A.
Footnotes
Underlying, excluding specific items. see p. 15 and following pages for more details on specific items and p. 25 for the ROTE calculation
Group share
Contribution to the Single Resolution Fund (SRF)
Average over last four rolling quarters, annualised
According to pro forma P2R for 2019 of 9.5% as notified by the ECB (excl. countercyclical buffer)
Adoption of Wiztopic's Blockchain Certification Platform
In order to safeguard its communication, Crédit Agricole certifies its contents with Wiztrust since February 20, 2020. You can check the authenticity of our information on the website www.wiztrust.com.
Our press contact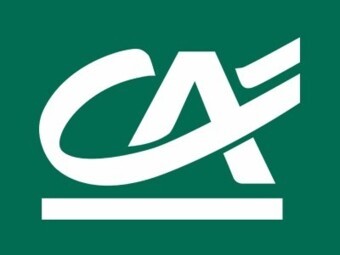 Press Department Crédit Agricole Group