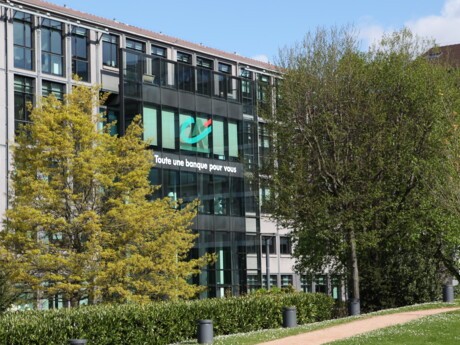 Putting climate change at the heart of our customer relations: Crédit Agricole measures progress towards climate transition among its corporate customers
Two new programmes to assess corporate commitment among SME, MSE and large companies
With the aim of improving dialogue with its customers, Crédit Agricole is launching two new programmes for measuring progress towards climate transition aimed at SME, MSE and large companies. These programmes were first announced in June 2019 as part of the Crédit Agricole Group Project.
In the words of Dominique Lefebvre, Chairman of Fédération Nationale du Crédit Agricole and Crédit Agricole SA: "Our customers want to be proactive when it comes to their environmental transition, but there is a call for simpler and more inclusive models. Our role is to help them move forward, because the only way we will meet the emissions reduction targets is by working together. By placing climate change at the heart of our customer relations, we aim to become the drivers of change".
Climate transition scoring for all of Crédit Agricole's listed corporate customers
The Climate Transition Score is a tool for dialogue designed to improve the support given to companies to help them adapt to climate change and reduce their CO2 emissions. It is used to measure progress along the climate transition pathway. The scheme will be applied identically across Crédit Agricole CIB and Amundi, who will launch it on a trial basis in early 2021 for their corporate customers. The score, ranging from "A" for the companies furthest along their energy transition pathway, to "G" for the least advanced, will complement the financial rating and be recorded in the customer assessment files.
Based on public data, the score is calculated using three main factors: energy performance to date, transition goals and rate of change. Initially intended for listed companies, it will eventually be rolled out to non-listed companies as well.
ESG scoring for all SME and MSE customers of Crédit Agricole
This system for measuring the non-financial performance of SME and MSE was introduced in 2020 in the form of a questionnaire covering a range of environmental, social and governance (ESG) criteria.
Having completed a two-year trial period across 7 regional banks, the system has now been rolled out by the Business Relationship Managers (for SME and MSE) at regional banks, LCL and Crédit du Maroc. It will help them to structure the dialogue with their customers and provide better support for their transition. The questionnaire covers topics such as governance issues, environmental impact, contribution to local development and social practices.
Adoption of Wiztopic's Blockchain Certification Platform
In order to safeguard its communication, Crédit Agricole certifies its contents with Wiztrust since February 20, 2020. You can check the authenticity of our information on the website www.wiztrust.com.