Interview with Eric Cochard, Head of Sustainable Development, Crédit Agricole CIB
To coincide with European Sustainable Development Week, taking place from 30 May to 5 June, we wanted to find out what CSR actions Crédit Agricole CIB had put in place. What is the bank's strategy? How does it approach climate financing in particular? What major commitments has it made? Here we take another look at the Bank's CSR policy with Eric Cochard, Head of Sustainable Development at Crédit Agricole CIB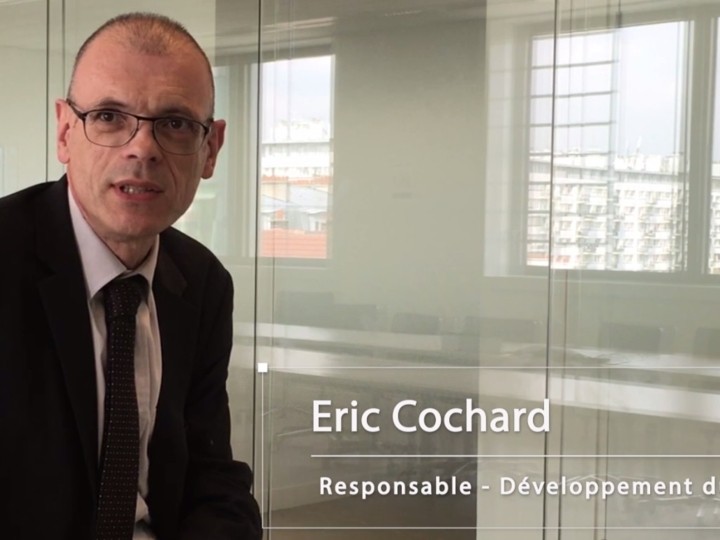 Can you give us a quick overview of Crédit Agricole CIB's CSR policy?
Eric Cochard : We believe CSR to be a source of value creation for all stakeholders: clients, employees, suppliers, civil society, and so on. For many years, the Bank has been broadly integrating all of the social, societal and environmental risks caused directly by its clients. That's what it means to be a responsible Bank. Climate financing is an important aspect of our business as a corporate and investment bank. The Bank is a driving force as regards the role it needs to play to combat global warming.
What does this mean in concrete terms? Financing renewable energy projects?
The integration of climate financing is central to Crédit Agricole CIB's business model. There are three main thrusts to our strategy for responding to climate financing challenges, namely financing the energy transition, managing climate risk and optimising our carbon footprint. As early as 1997, Crédit Agricole CIB was financing the first wind farms, then solar energy projects from 2008 and is now a recognised climate financing expert. In 2017, renewable energy represented 50% of electrical generation funding activity in terms of number of files. The Bank has also long been a leading arranger on the markets for green, social and sustainability bonds. It committed to structuring €100 billion in green financing between end-2015 and end-2020.
€100 billion? That seems like a huge amount....
It is an enormous commitment, but the need exists. The International Energy Agency estimates this need at more than $30 trillion over 20 years. Crédit Agricole CIB arranged $70 billion between December 2015 and December 2017, and so exceeded – one year ahead of schedule – the initial target it had set itself on the sidelines of the COP21 to structure $60 billion in green financing between December 2015 and December 2018.
That's the financing aspect. Now can we take another look at climate risk assessment and management?
For some years now Crédit Agricole CIB has been conducting work aimed at better understanding and managing climate risk. We are seeking to improve the carbon footprint of our financing and investment portfolio, which naturally means calculating our footprint, but also defining sector policies for the sectors responsible for the lion's share of it (more than 80% on a cumulative basis). As such, we have implemented 12 sector policies, which may evolve over time in accordance with climate change challenges. Let's take coal, for example. In 2015, we were the first commercial bank to announce we would no longer finance coal mining and a year later we stopped it definitively. In 2017, we decided to no longer finance the least energy-efficient hydrocarbons or those that post most risk for the environment (oil sands and extra heavy oil). We also assess the materiality of climate risks for the Bank and gradually introduce additional analyses for clients that appear to present the greatest risk.
This year, the theme of Sustainable Development Week is "Cities and territories of tomorrow". How can Crédit Agricole CIB respond to the challenges facing tomorrow's cities and territories?
Cities concentrate social and environmental challenges including transport, which still relies too heavily on carbon-based fuel, and an alarming acceleration in biodiversity loss and pollution, which threatens public health, with the two issues often intertwined. Let us not forget that fine particles cause approximately 50,000 deaths per year in France*, 40 to 50 times more than passive smoking.
Towns and territories are therefore essential players in the requisite social changes, which we are doing our utmost to promote. I can cite two examples: we support the proactive commitment of major real estate players that are already subject to the latest environmental standards (BBC- Low-Consumption Building, HEQ, Bream, Leed, etc.) in the OECD countries where Crédit Agricole CIB is present, but that wish to go even further. These include the Real Estate Investment Trust sector in France, which issued its first Green bond in September 2017.
The other example concerns infrastructure. Early in the year, the Bank acted within the scope of a green bond issued by Tideway for London's super sewer scheme. This project aims to considerably reduce the discharge of waste water into the Thames and increase its holding capacity, which will improve both the state of the river and public health.
We've talked a lot about climate financing. Is CSR limited to this?
We have a major role to play in climate financing. But the Bank's CSR policy goes much further and includes many aspects: employees, code of ethics, regional development, transparency, reporting and so on. In short, it is much wider-ranging.Let us take another example: for a number of years Crédit Agricole CIB has been proactively committed to promoting diversity, which is a genuine driver of innovation and performance. This is true for the Bank, but also for our clients. Crédit Agricole CIB was particularly active in the Asia-Pacific region through the issue of gender equality bonds, or "Gender Bonds". For more information about the Bank's diversity commitments, I suggest that you watch the video by Crédit Agricole CIB's Chief Executive Officer Jean-Yves Hocher, who spoke about this issue a few weeks ago.
* Source: a study by French Health organization Santé Publique France
Adoption of Wiztopic's Blockchain Certification Platform
In order to safeguard its communication, Crédit Agricole certifies its contents with Wiztrust since February 20, 2020. You can check the authenticity of our information on the website www.wiztrust.com.
Our press contact
Alexandre Barat
Crédit Agricole CIB