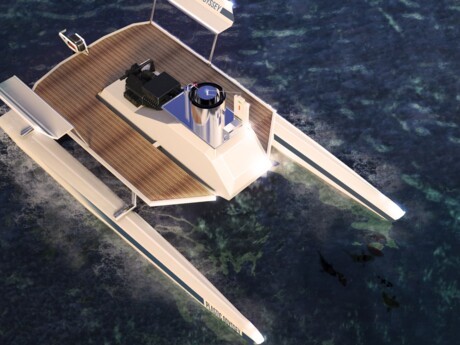 Credit Agricole supports the "Plastic Odyssey" expedition Prototype catamaran to be inaugurated in Concarneau on 15 June 2018
Credit Agricole is reasserting its commitment to the environment by sponsoring the "Plastic Odyssey" expedition. Its goal is to make the global population aware of pollution from discarded plastic.
Credit Agricole, sponsor of the ship's prototype
The Aquitaine, Finistère, Normandie, Normandie-Seine, and Provence Côte d'Azur Regional Banks; Crédit Agricole S.A.; and CAMCA Mutuelle are partners in financing the prototype of the boat for the Plastic Odyssey expedition. The inauguration of this prototype, christened "Ulysses," is set for Friday 15 June 2018 at the Port of Concarneau.
This six-metre version will set off on a six-month tour throughout France until December 2018. The goal is to adapt to pyrolysis technology, which transforms plastic waste into fuel, for navigation.
A three-year international expedition
The expedition's project team has designed a catamaran capable of using plastic waste as fuel. The final version of the 25-metre ship, christened "Plastic Odyssey", will set off in 2020 for a three-year trip around the globe. The waste will be harvested along the coastlines of each port of call, then sorted. In addition to the technical challenge, the crew will be setting up workshops to build and test numerous open-source machines deployed at each port of call, in order to share advances in plastic-waste transformation on a worldwide scale.

One of the cornerstones of Credit Agricole's sponsorship policy is regional benefit: through its Foundations, its partnerships with associations, and its participation in Endowment Funds, the Credit Agricole group supports those who are active in culture and solidarity as well as the environment.
 
Adoption of Wiztopic's Blockchain Certification Platform
In order to safeguard its communication, Crédit Agricole certifies its contents with Wiztrust since February 20, 2020. You can check the authenticity of our information on the website www.wiztrust.com.