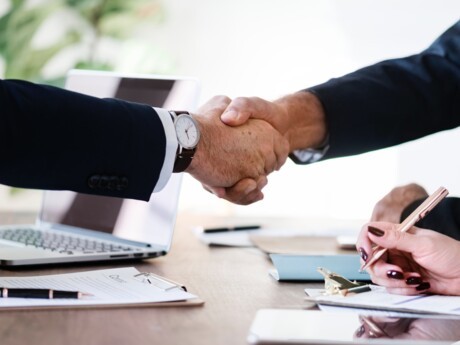 Crédit Agricole named an official supporter of FIFA Women's World Cup 2019TM in France
Crédit Agricole has been partnering football in France since 1974. It's no surprise therefore that it has been named an official supporter of the 8th FIFA Women's World CupTM which will be held in France for the first time between 7 June and 7 July 2019.
A strong commitment to women's football
As part of its work with the French Football Federation (Fédération Française de Football -  FFF), Crédit Agricole is already an official sponsor of the French women's team, the women's Coupe de France tournament and the Semaine du football féminin (women's football week) during which more than 30,000 young girls throughout France get a chance to play football each year.
As a national supporter of FIFA Women's World CupTM, Crédit Agricole will enhance its work in promoting women's football and diversity in sport in general.
Véronique Faujour, Head of Marketing and Client Communication at Crédit Agricole S.A., says : "Crédit Agricole supports football in all its forms, and is proud to be part of the growing popularity of women's football in France and to team up with FIFA for this event. Once again, we can look forward to this competition demonstrating what a tremendous role football plays in bringing people together and in promoting diversity and equal opportunity – values that are cherished by Crédit Agricole and which we advocate in all territories in which we operate as part of our approach to sport as a life enhancing experience."
Philippe Le Floc'h, Chief Commercial Officer of FIFATM, says: "We are delighted that Crédit Agricole has joined our team of national supporters. The Group is well known for its sports sponsoring activities, and French football in particular – at all levels, from the youngest players up to the national team. I have no doubt that Crédit Agricole will help us to make a mark at the FIFA Women's World CupTM and to make the tournament in France a memorable experience."
Noël Le Graët, Chairman of the FFF and the French national organising committee (LOC), says: "Crédit Agricole is a loyal partner of football and its development. It has been working with the French Football Federation for more than forty years and it's only natural that we welcome it with much pride among the national partners of the next FIFA Women's Football World CupTM which will be held in France in 2019. Crédit Agricole is one of the world's top ten banks. Its dedication to the development of women's football and proximity to the local public are major advantages for the success of this competition".
Crédit Agricole and football: nearly 45 years of history
Under this new partnership, supporting France's most popular sport, Crédit Agricole can continue contributing to society in the territories in which it operates. It accompanies 2.2 million graduates and more than 15,000 amateur football clubs, the core of its engagement work. Crédit Agricole is also a partner of the French national men's football team and junior team, the Coupes de France and the Coupe Gambardella-Crédit Agricole.
Sport as a life enhancing activity
Crédit Agricole believes that playing a sport offers useful life values for players, helping them to grow, thrive and become stronger as individuals. As a mutual and cooperative bank, Crédit Agricole advocates similar values, aiming to promote "sport as a life enhancing activity" through all of its national and regional sports partnerships (27 sports supported throughout France)
See our commitments on: https://www.credit-agricole.fr/sports/
Adoption of Wiztopic's Blockchain Certification Platform
In order to safeguard its communication, Crédit Agricole certifies its contents with Wiztrust since February 20, 2020. You can check the authenticity of our information on the website www.wiztrust.com.
Our press contact
Olivier Tassain
Crédit Agricole S.A.