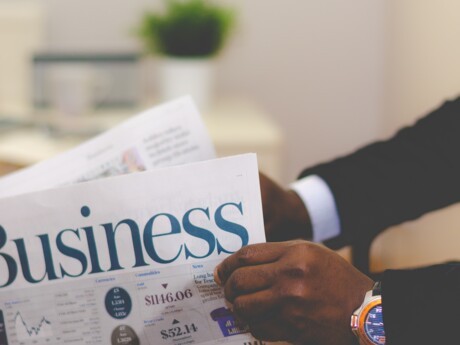 Crédit Agricole is committed to equal opportunity and youth employment: 750 last-year students from REP and REP+ middle schools will be welcomed by the Group as interns in 2019
Professional experience is key to facilitating young people's integration into the job market, but finding an internship can be difficult for students raised in communities with few professional connections.
As part of its broad social commitment, Crédit Agricole is opening its doors to students from middle schools in priority education networks (Réseau d'Éducation Prioritaire - REP or REP+) to help them find quality internships.
Crédit Agricole commits to welcoming 750 students from REP or REP+ middle schools
750 students in their final year of middle school will be welcomed into the Crédit Agricole Group as interns in 2019. This represents 5% of the national effort the French government requires of private companies:
450 students in the regional branches of Crédit Agricole,

300 students at Crédit Agricole S.A. and its subsidiaries.
The interns will be selected from among students enrolled at REP or REP+ middle schools based near Crédit Agricole locations. They will be hosted for one week by the Group's various businesses (banking, insurance, real estate, etc. and support functions) throughout France, in the regional branches, and on the Montrouge (92) and Saint-Quentin-en-Yvelines (78) campuses.
This commitment is part of a larger strategy of social, financial and digital inclusion.
A first group to be hosted in January 2019 with a specific welcome programme
From 28 January 2019, 20 students enrolled at Joliot-Curie de Bagneux middle school will be hosted by the Crédit Agricole S.A. teams on the Montrouge campus.
For one week, they will alternate between group sessions (morning kick-off; tour of CACD2, Crédit Agricole S.A.'s digital hive; presentation of the Group's sponsorship; event led by IFCAM, the Group University, on robotics and the cognitive sciences, etc.) and participating in the activities of the department hosting them.
This comprehensive programme will allow them to gain a better understanding of how a large group is organized, participate in workplace situations and benefit from advice on writing their CV and preparing for job interviews. Each student will be supported by a volunteer tutor throughout the week.
The 39 regional branches located throughout France will welcome the students all year long into their branches and administrative sites. During the week-long immersion, the students will be able to:  Learn about the diversity of jobs offered by a bank, familiarise themselves with the cooperative and mutualist model and gain awareness of how budgets are managed and how a bank functions. This action is fully in line with the policy of the regional branches, which aims to promote young people's access to the world of work. They have long offered students internships and summer jobs and have forged a model for the integration of young people, in particular through apprenticeships and work-study programmes.
LCL commits to supporting young people in their educational and professional development
In addition, LCL will welcome a total of 300 last-year middle school students into its banking network in 2019.
Students can apply directly at the 367 participating branches (Paris, Strasbourg, Nancy, Lyon, etc.). The branch manager will be their tutor throughout the five-day period.
During this internship, the students will learn about the activities of the banking world and the organisation and day-to-day life in a branch. An internship welcome and follow-up kit will be provided to students to help them complete a report on their internship.
A few figures:
Today in France, students' educational success is still too often determined by their social background. Of the 200,000 students who discontinue their studies before the Bac, nearly half are from working-class backgrounds (compared with 5% from middle class backgrounds)[1]. These students are also largely under-represented in higher education in all fields: 1 out of 10 students has working-class parents[2], while the same group represents nearly 30% of this age range.
Read the LinkedIn article that Philippe Brassac, Chief Executive Officer of Crédit Agricole S.A., published on the subject in October 2018: https://www.linkedin.com/pulse/insertion-des-jeunes-que-l%C3%A9tat-organise-la-nous-serons-brassac/
Adoption of Wiztopic's Blockchain Certification Platform
In order to safeguard its communication, Crédit Agricole certifies its contents with Wiztrust since February 20, 2020. You can check the authenticity of our information on the website www.wiztrust.com.
Our press contact