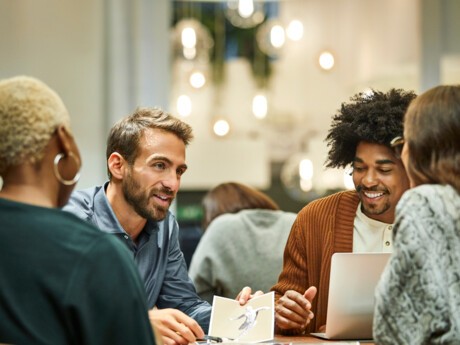 Golem.ai, winning start-up of the "100% Compliance" competition
The "100% Compliance" competition has honoured Golem.ai for its innovative solution in the field of compliance. 
Created in 2016, start-up company Golem.ai has developed an automated service to analyse conversations between advisors and customers. By using artificial intelligence to analyse the language used (in emails, voice messages and documents), this solution will enable Crédit Agricole to:
Improve the quality of its service through targeted listening processes and the overall monitoring of call quality,

Meet regulatory obligations and increasingly stringent regulator requirements.
Following this competition, the Golem.ai solution will be tested in one or more Group entities.
Start-ups focusing on compliance-related issues
The "100% Compliance" competition, launched by Crédit Agricole S.A. with the support of the Paris Village by CA in September 2019, has helped identify start-ups presenting innovative, concrete and agile solutions that address some of the compliance-related issues faced by banks.
144 start-ups took part. 40 of these were selected and given support by forty of the bank's experts in compliance, banking, legal matters and IT, with one common goal: to trial new solutions.
7 start-ups made it through to the semi-final:
AML Factory, which seeks to improve the management of systems used to combat money laundering and the financing of terrorism,
Bleckwen, which has developed a scoring engine to enable the detection of fraudulent transfers using machine learning,
Golem.ai, the winning start-up,
Nephelai, which uses machine learning techniques to detect data entry errors and enhance financial transactions in real time,
Payper Check, which helps banks to address issues relating to fraud and the cost of bank cheques,
TrustID, which has developed a secure, instantaneous and customer-transparent system for the verification of postal addresses and mobile numbers,
Ubble, which remotely verifies the identity of users, both simply and securely, by checking short videos of their identity documents and their faces.
A budget was allocated to the three finalists – Golem.ai, AML Factory and Ubble – for the implementation of their trials: €10,000 for 1st prize, €4,000 for 2nd prize and €2,000 for 3rd prize.
Adoption of Wiztopic's Blockchain Certification Platform
In order to safeguard its communication, Crédit Agricole certifies its contents with Wiztrust since February 20, 2020. You can check the authenticity of our information on the website www.wiztrust.com.